Publications
Finding the Flow: A Calligraphic Journey

by Gina Jonas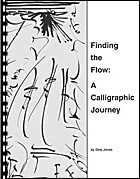 Self-published 2006, reprinted 2008
90 pages, fully illustrated, comb-bound, 8.5 x 11 inches.
$24.95
Book Review
Letter Arts Review, Autumn 2007, Volume 22 Number 2 [PDF]
Reviewer: Rose Folsom
With many thanks to Christopher Calderhead for permission to reprint this review. For information regarding subscriptions, ordering single copies, or advertising please email: info@johnnealbooks.com
Article
Colophon, June 2009, Volume 30 Number 3 [HTML]
I was invited to write this article for the Australian Society of Calligraphers' journal to introduce my book.
"Finding the Flow" Workshop
See Teaching section of this website for a class description and review of a "Finding the Flow" workshop held in San Francisco.
To purchase
Please order from:

Hebrew Calligraphy Styles

by Gina Jonas


Self-published 1996, reprinted 2006
26 pages, seven styles: four with detailed information for construction, 8.5 x 5.5 inches.
$16
To purchase
Please order from:

Articles & Reviews
"Calligraphy as a Spiritual Way", Alphabet, 2007.
In this article I describe my personal quest to practice calligraphy as more than an artistic, visual undertaking and from my findings, offer comments relevant to the general practice of calligraphy.
A PDF version may be read here.

"Developing Meaning"
PDF available at: link at Cheerio Calligraphy Retreats

"Nib Contact: and The Case for a Touch-Sensitive Writing Board", Alphabet, 2011.
With kind permission of Alphabet, the journal of the Friends of Calligraphy, San Francisco.
A PDF version may be read here.