Gallery
Introduction
In this section I would like to offer work further amplifying today's calligraphic spectrum, with selections from both my commission work and personal artistic explorations. Cumulatively, they picture my current view of calligraphy: the conscious use of letterform to express meaning, whether purely verbal or purely visual (non-legible), or somewhere within this range. For me, calligraphy is an integration of form and flow. We read due to the grace of form, by the direction, joining and spacing of strokes; however, we experience the stirring of life and joy through flow: the expressive quality of our movement and touch, its connection to feeling and energy.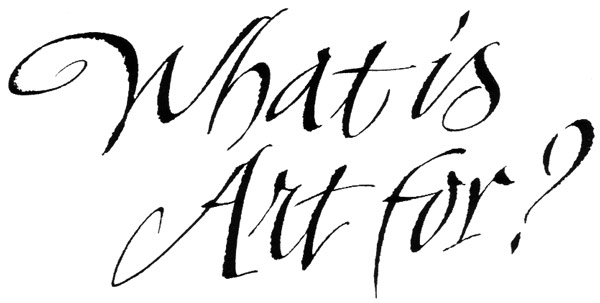 Client:
Washington State University Magazine
Job:
Title for magazine article
Challenge:
To harmonize the title with the type font, the spirit of the text, and a facing full-page photograph of a Native American petroglyph. The image, composed of bold rough-edged geometric designs, is surrounded by a delicate arabesque of dried grasses.

Joy
Text:
joy liberating the mind
A calligraphic experiment with the expressive and symbolic use of letterform.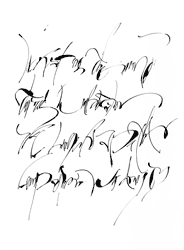 Liberating the Mind
Text:
liberating the mind
through meditation
techniques a path to
compassion wisdom joy
This work breaks the rules of conventional writing for the sake of giving shape and form to the spirit of the text. As the author of these lines, the words have a deeply personal meaning for me. At the time of making this piece, I was absorbed with the communication of its feeling: the lightness and joy intrinsic to liberation. Only upon completing it did I discover further significance: liberation from conventional letterform. Symbolically, then, the unfamiliar lines of these letters may represent a break from habitual social convention where habitual reaction, the trained performance of writing, is replaced by conscious investigation.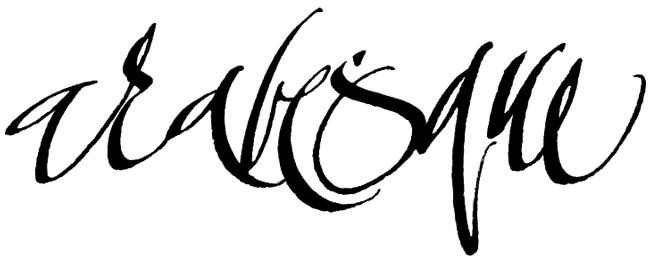 Personal work: the pen at play!
Client: NBBJ, international architectural firm
Job: Hand-calligraphed original pieces for new associates
Challenge: To create a piece that in some way interprets/embodies the spirit/meaning of the text. For the second quote by Anaïs Nin this meant choosing a flush right margin, bringing the text close to the page edge, and creating a non-conventional alphabet style.

Client:
Director of "Responding to Our World: Words, Images, Gestures," an international calligraphy conference at which I was invited to teach in 2007
Job & Challenge:
To create a unique visual design for "words images gestures"
These pieces were inspired by songs written by my husband, singer/songwriter Mick Read. In collaborating on a book, Lyrics, I rendered his words calligraphically — interpreting the music through letterform, but not sacrificing legibility. In Phoenix, the first verse of a passionate love song, I wanted to express the energy of passion through the vigor of my strokes. The lines of music sound like a surging sea, swelling and subsiding. The historically-influenced style used for Troubadour, with its melodic lament of cultural loss, seemed in harmony with the song's tone and feeling.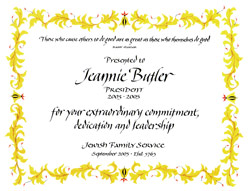 Client: Jewish Family Service

Job: Hand-created certificate — calligraphy & decoration

Challenge: To interpret my client's description of the recipient and her taste calligraphically & decoratively.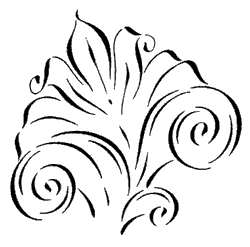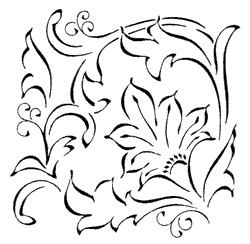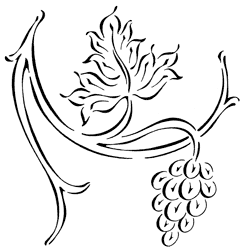 Client: Alessandro/Weber Design; Heather Dega, designer

Job: 30 calligraphic images for the cookbook, Quick & Kosher

Challenge: To make contemporary images, stimulated by designs from ornamental silver Judaica pieces, with a subtle reference to, or hint of, their Jewish background.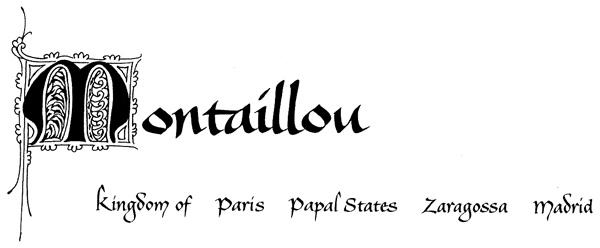 Client: Director of PBS miniseries docudrama, The Secret Lives of the Inquisition

Job: Map titling

Challenge: To impart historical flavor to letterform, making it legible and distinctive but not antiquated.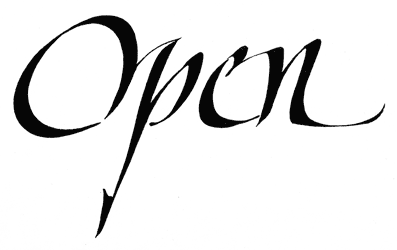 Client: Café Vivace

Job: Two hand-crafted signs for this local Seattle coffee shop

Challenge: To express energy and rhythmic flow in letter, word and line