Marriage Vows
I am happy to make marriage vows in any tradition; such a document is a customary part of the Jewish and Quaker wedding traditions.
The ketubah is a marriage document that is witnessed and signed before a Jewish marriage ceremony as it has been for approximately 2000 years. To create a ketubah today offers two individuals an opportunity to connect to past tradition while reflecting upon their own place in it; to consider the values they wish to cultivate through their upcoming change of social status; and, to give these thoughts enduring artistic form.
My approach:
I offer a custom, handmade piece of work; the ketubah, for me, is a unique and personal expression of two individuals joining together. To create such a document/artwork, it is helpful for me to have an idea of its overall meaning and significance to the couple, in addition to thoughts about its size, formality, color and design (and symbolic elements, if desired), and its feeling. As a calligrapher, the text — its contents, length and whether there will be Hebrew, etc. — is the basis of the work; text — style and weight — and decoration are designed to balance and be in harmony with each other. The process is an exciting one of creative interaction. The first step is to present me with a text(s) and any ideas regarding the above issues/topics. I will then make an estimate. If commissioned, we discuss the above issues as a basis for developing design 'roughs'; we make arrangements for all aspects of the work including time, that is, completion of roughs for discussion; proofreading, if in Hebrew; presentation/mounting; and payment. I deeply enjoy working with a couple to create their ketubah!
Additional services:
Ketubah completion: I am happy to 'fill-in' the personal information left blank in printed ketubot. This involves a study of the text style (styles, if in Hebrew and English) to match its character for the inserted information.
Ketubah text design: if you would like to purchase a printed design/border and have the text hand-inscribed.
Ideas for ketubah design come from a variety of sources; the samples below will offer a selection.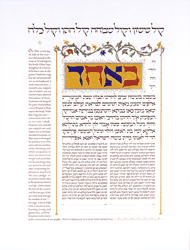 For this ketubah I suggested developing a piece based upon my recent research with original Hebrew manuscripts in England. It would encompass the ever-resonant Hebrew letter itself, with its reference to the vital, well-rooted tradition of the hand in Jewish text production: the Torah, historic Talmud and its ongoing expression (albeit translated into type!) through commentary and erudition. As if to emphasize its significance further, our choice of decoration was also from the manuscript tradition: a 'word panel', the embellished first word of a text, analogous to the illuminated 'versal' of our Roman manuscript heritage. The text was also designed to refer more specifically to marriage, with a chuppah (traditional marriage canopy) subtly employed to provide 'page' structure.
My clients expressed interest in the Asian calligraphic tradition, and a desire to create a contemporary piece with references to tradition. The latter we find in the understated word panel, as well as in the subtle separation of the top 4 lines — the traditional ketubah preface which relates the basics of time, place and participants. The text, written in a contemporary alphabet style of my own design, perhaps echoes the Chinese calligraphic tradition with its emphasis on energy and movement, through its extended strokes and its stroke shapes. (It was thrilling to take this alphabet design and, for the first time, use it as a written script.) The accompanying quotes, written vertically, reference this tradition more directly. The decoration, if not obviously belonging to this tradition, was stimulated by an exhibit at the Seattle Asian Art Museum!
In this ketubah my clients wished to blend elements from the three distinctive traditions—Jewish, Quaker and Buddhist—of their backgrounds. In fulfilling this desire we brought together a Hebrew quote, the preface to the ketubah formulary, the Quaker formulary and witnessing, and the Chinese character for love. We also incorporated the popular Hebrew text, "I am to my beloved as my beloved is to me", from The Song of Songs, by 'writing' this line, in tiny letters, to serve as signature lines for both bride and groom. By doing so we made reference to two unique features of the Hebrew manuscript tradition: 1) 'micrography': tiny writing used to 'draw' ornamental figures for the embellishment of texts, and 2) 'dilation': the scribal technique of extending horizontal strokes for the justification of texts. My client's desire for the whole piece to have a sense of movement allowed me to experiment with the placement of the lines of text, as well as with the 'linearity' of the flowers, their stems and tendrils. It is always a wonderful challenge for me, as a calligrapher, to create harmony between the Roman and Hebrew styles, and to give life and contemporary expression to these traditional alphabets.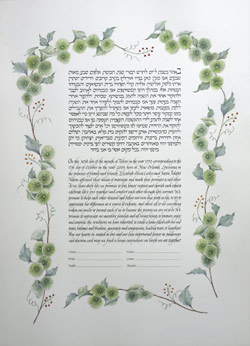 Working with a ketubah design found on the internet my clients chose text styles from my portfolio — a traditional Sephardi Hebrew and a flowing italic — and, for the border, a flower to be used in their chuppah, Bells of Ireland. Since the floral border was to be relatively large in relation to the light text, my challenge was to harmonize their respective weights. And, since "Bells" grow on upright stalks I gave myself license to draw them 'decoratively,' adding tendrils and berries at my client's request.
Hebramaic: Simplicity need not be simple! Here, the choice of a square format, with its connotations of a foundation, balance and solidity, acknowledge the earnest, serious side of a marriage agreement. This mood, however, is leavened by numerous subtle, intriguing details of text design. First, the choice of style is not traditional; rather, it is a postmodern hybrid mixing the notably square, formal Hebrew with its ancient, cursive ancestor, Aramaic. (I designed this style which I call Hebramaic, see
Publications
.) Second, there is a 'play' with symmetry to create balance: only the last three lines observe page symmetry while the above text adheres loosely to a left margin with ragged right. There is also uncommon spatial symmetry between the top and bottom 3 lines of text; these portions have greater distance between their lines, by the same amount, than the text. Unlike the text body, these triads each record the bride's and groom's full names. For additional 'graphic decoration' we recognized the relative importance of words by varying their size and weight.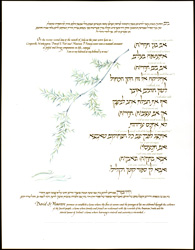 My clients asked me to create an unconventional ketubah, one which expressed gentleness and movement, and also included a poem translated from English into Hebrew. To begin, my clients selected a contemporary alphabet style of my own design; the style, which I call 'Bet', had its 'debut' in this ketubah! (It may be viewed on the Publications page: Hebrew Calligraphy Styles.) I was also provided with a book of Japanese ornamental designs, a few of which were marked for their particular appeal. Since overall design was left completely to me, I experimented freely while being guided by the 'spirit of the work' as noted above. Upon selection from numerous 'roughs', an enlarged poem, a soft palette and a play of calligraphic line for text and letterform became the basis for fashioning this work.
This piece displays some of the intricacy and complexity a ketubah may express, visually as well as symbolically. Texts: a conservative formulary upholds tradition in the central text block, solid and justified, while personal vows in the adjacent columns, with their ragged right margins, relate to it with seemingly conversational brio. Symbolically, these vows hold the position reserved for commentary, thus illustrating the compatibility of creativity and responsiveness with tradition. In this ketubah the word panels act visually to hold the text in place, to balance the weight and activity of the border; and, symbolically as word panels, they represent beginning points which serve to launch the action, conventionally, of reading, but placed in the four corners of a ketubah text may be said to represent a cornerstone for marriage. The chosen words are certainly worthy: love, honor/respect, loving-kindness and social justice. As inspiration for the border design my clients presented me with 20 pages of downloaded Turkish tile designs. They asked me to incorporate images of their individual and common interests; to accomplish this, I created vignettes placing their personal interests in the right and left bands with their shared ones top and bottom.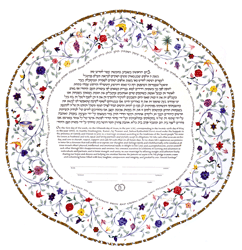 The unique shape of this ketubah came from a cookie exhibiting like contours; my clients handed it to me, smilingly, as we embarked upon the subject of design. Its six scalloped lobes hint gently at the Star of David, one of six symbolic motifs also woven into the floral vine. The Hebrew and English texts are 'stacked' within a circle, a shape repeated beneath the signature lines in interlocking rings composed of the couple's Hebrew names. The border is 'outlined' by two lines of text from the Seven Wedding Blessings.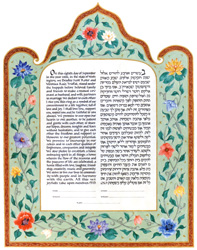 With its contoured triangular apex this ketubah echoes a historical style motif; a similar shape is occasionally found, inverted, at the document's foot. The Hebrew and English texts are written with bold strokes to visually balance the color-saturated border paneling; and, in this work, they are designed to face, or 'mirror', one another. Since the Hebrew text is generally shorter than the English, fitting the texts within the same text area is a scribal challenge. The Lotus and Poppy were chosen for their spiritual and personal significance.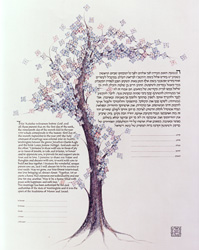 This tall flowering "Tree of Life" suggested a sort of 'organic' integration of text and image: with each text facing and opening to the tree's branches from its natural margin: Hebrew reading right to left and English left to right. A flower, 'picked' from the tree, serves, in the position of signature chop, to balance the design. Written in both Hebrew and English the tiny text surrounding it is again from The Song of Songs, "I am my beloved's and my beloved is mine"* (Perhaps, lending to the ketubah the congenial concept of love as signature, as itself the vital agent which authored, or created, the marriage document.)

*Since the Hebrew text does not use the possessive, I have offered an equally valid, if less well known, translation to couples: "I am to my beloved as my beloved is to me."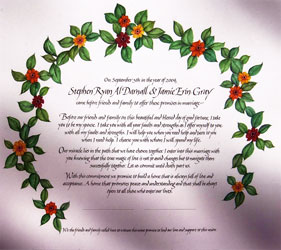 Although not joining in a Quaker union, this couple wished to use its tradition of witnessing: whereby all guests, in addition to bride and groom, sign beneath the marriage vows. (Image does not include 'signature block', which was positioned below the last line of text.) My clients asked me to create a wreath of bold, richly-colored leaves and flowers to overarch the text. For the calligraphic text to balance its intense saturated color and dynamic exuberance, I developed a variant of the Italic alphabet style and, to add slightly more visual weight, 'double-stroked' the ascenders of the letter 'd'.